World Cup Gambling Futures – Cappers Picks
Looking for 2022 World Cup Betting Odds For All 32 Teams plus free World Cup picks and the best Sportsbook Promo Codes & Sportsbooks & Betting sites to bet on the World Cup? Look no further. We've got your back! 2022 World Cup football betting starts in a few days when the 2022 FIFA World Cup takes center stage in Qatar on Sunday, November 20th. Cappers Picks provides complimentary & premium expert handicapping picks on all 2022 World Cup football matchups all tournament long so stay tuned. Keep checking back for more 2022 World Cup betting articles like this 2022 World Cup Betting Odds blog post!
SCROLL DOWN FOR our 2022 World Cup Betting Odds For All 32 Teams !
Our list of the Best 2022 FIFA World Cup Betting Website will also be below…
The 2022 FIFA World Cup is the 22nd FIFA World Cup. The BEST men's national teams in the world, who are part of FIFA's member associations take place.
Dates: Sun, Nov 20, 2022 – Sun, Dec 18, 2022
Teams: 32 (from 5 confederations)
Venue(s): 8 (in 5 host cities)
Location: Lusail Stadium, Al Bayt Stadium, & more…
Why is the world cup being played in November & December you ask?
Qatar is in the middle east. Temperatures will be scorching…it's not exactly soccer / football weather, unless you're from the southern hemisphere, so the games have to be played in the European & North American winter months so hopefully temps are lower. The opening match will be between Qatar and Ecuador at Al Bayt Stadium, Al Khor. The final will be held on 18 December 2022, Qatar's National Day.
The defending champs are France, as they defeated Croatia 4-2 in the 2018 World Cup.
World Cup 2022 Bragging Rights
In our opinion here is the best 2022 FIFA World Cup Betting Site
1. MyBookie 2022 World Cup Betting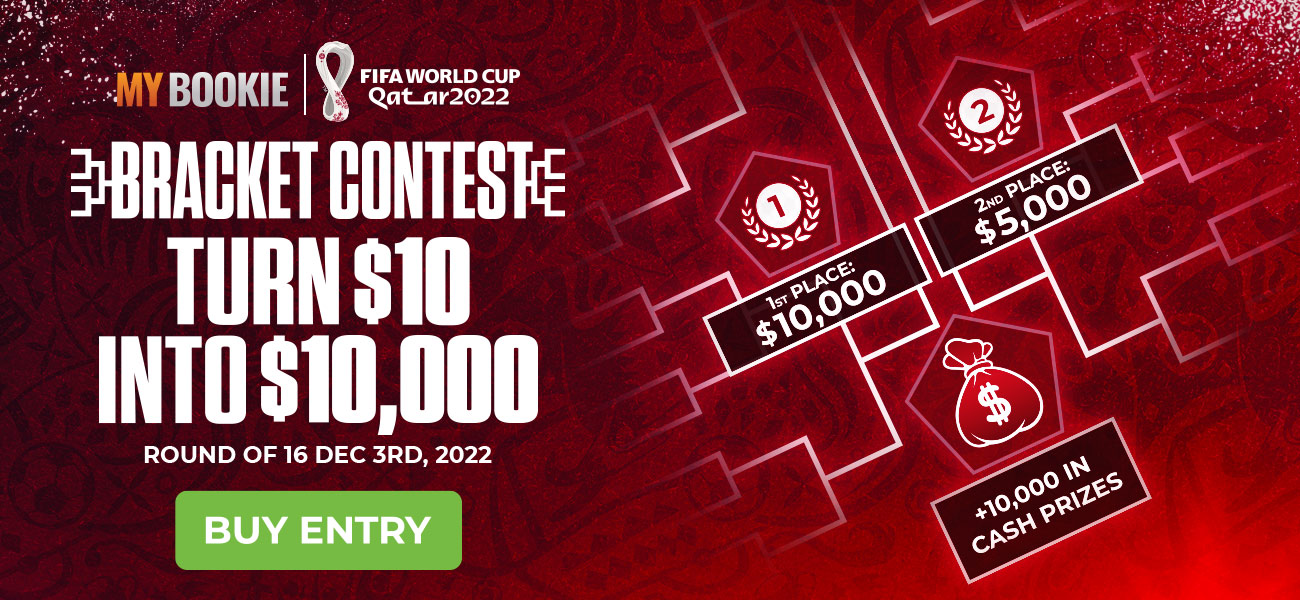 $10000 Bracket Contest. Turn $10 into $10K with MyBookie! Your home the 2022 Fifa World Cup in Qatar! Buy an Entry Today.
Bet On Anything. Anywhere. Anytime. First Deposit Bonus Up To $1,000 + $10 Casino Chip w/ the CappersPicks.com Promo Code: CPICKS
Looking for Soccer Futures? World Cup Betting Odds!
Here then are the 2022 World Cup Betting Odds For All 32 Teams you're looking for. 32 countries from all over the world have already travelled to the middle east (Qatar) to kick off one of the best sporting events held on this planet! In 2022 the favorites to win the 2022 World Cup are Brazil (+350), Argentina (+540) and defending champion France (+690) round out the top 3 favorites.
The FIFA World Cup as we said starts Sunday, with each team playing 3 games in their initial group. This tournament will last a month, and just before Christmas we'll know who are the World Champs.
Basically if you're looking for a free 2022 World Cup Pick? We're on the Dutch. In the past, Holland has gotten desperately close to winning the trophy. Is 2022 the Netherlands' year? We think so.
Updated December 4th, 2022
2022 World Cup Betting Odds – Future Lines
Semi Finals – 2022
France +110
Argentina +175
Croatia +700
Morocco +900
Updated December 10th, 2022
France +110
Giroux, Mbappe and Dembele a formidable attacking threesome will look to take Les Bleus into yet another final this weekend when they play Morocco in the Semi Final. The clash of high-level attacking vs. incredible defense will be must-see-tv! Will the 2018 champs get another step closer to winning again, or is there a World Cup odds upset on the cards? France are the favorite coming into this as the reigning champions but there is just something about this gritty Morocco team playing for an entire continent. Should be a dandy!
Argentina +175
In the summer of 2021 Argentina ended a long wait for a major trophy as they won the Copa America for the 15th time beating Brazil in the final. Messi was at his best versus the Dutch in the Quarters, they're hoping to recreate some tournament magic. What does he have left in the tank? No doubt Croatia will want to spoil the Argentine party that is sure to be out in full force in the Semi's since it seems that all of Argentina is in Qatar. Last game out however the World Cup match between Argentina and the Netherlands boiled over into into a full-scale brawl and there were a ton of yellow cards handed out. Will Angel Di Maria be fit? Big questions loom. Can La Albiceleste go all the way?
Croatia +700
The runners up from 2018 are back in the final 4 yet again. This side just has no quit in them. You'll be hard pressed to find another team with such iron-clad determination as well. They're a long shot to beat Argentina in the semi-final, but don't tell them that. Last game out for Croatia it looked as though Neymar had won it for Brazil, tying Pele's international scoring record for the Seleção, but Bruno Petković broke Brazilian hearts with a last-second equalizer to send the game to penalties. And we all know what happened there. The Croatians just don't stop believing in themselves. They are a formidable team. Versus Argentina of course will be a stiff test, but just like in Russia, everything will again revolve around Modrić. If Luca can reproduce the quality everyone knows he is capable of anything is possible.
The Longshots – Morocco +900
You almost get the feeling this side doesn't care who they play. First it was Spain, and now…their latest victims? Portugal and Ronaldo. So long Seleção das Quinas. The Atlas Lions with four wins and a draw in Qatar are the first African nation to EVER reach the World Cup Semi Finals. They have only conceded one goal so far in the tournament and that was an own goal versus Canada. No team has scored a goal against the Lions as of yet. They'll have to hope that trend continues if they're to have a chance against World Champion France. One thing is for certain. Morocco has now won as many games as they had in their entire World Cup history by beating Canada and upsetting Belgium in the group stages. This is to be a case of "the rest is just gravy" right? Bookmakers make them the least likely to win the tournament, only time will tell.
Cappers Picks – Soccer Picks
Bookmark our Football & World Cup Soccer picks index today! We aim to bring you stats, Matchups, Previews, Odds, Picks, Injuries, Trends and more. For any World Soccer resources you could need like odds, team stats, player stats, schedules, or Soccer handicappers check out Cappers Picks soccer section today. Generally we're your go to source for the best 2022 World Cup Betting Odds For All 32 Teams, and you know it!
Cappers Picks provides complimentary expert handicapping picks on all 2022 World Cup soccer & as much European football matchups all season long. Stay tuned for more FREE daily football & soccer predictions.
If you're looking for more Best 2022 FIFA World Cup Betting info & matchup analysis we'll be providing 4* free World Cup betting tips on the blog all tournament long, and check out our Experts for guaranteed premium & free World Cup picks!
Register here for a FREE Soccer/Football Betting Account Now for Daily Free Picks & More Special Offers!