World Cup Gambling – Cappers Picks
Looking for Best 2022 FIFA World Cup Betting Sites free World Cup picks and a matchup previews? 2022 World Cup football betting starts in a few days when the 2022 FIFA World Cup takes center stage in Qatar starting on Sunday, November 20th. Cappers Picks provides complimentary & premium expert handicapping picks on all 2022 World Cup football matchups all tournament long so stay tuned. Keep checking back for more 2022 World Cup tips like this Best 2022 FIFA World Cup Betting Sites blog post!
SCROLL DOWN FOR our Best 2022 FIFA World Cup Betting Sites !
Our list of the Best 2022 FIFA World Cup Betting Websites will be below…
The 2022 FIFA World Cup is the 22nd FIFA World Cup. The BEST men's national teams in the world, who are part of FIFA's member associations take place. This year as stated the event is in Qatar from 20 November to the final game on 18 December 2022.
Dates: Sun, Nov 20, 2022 – Sun, Dec 18, 2022
Teams: 32 (from 5 confederations)
Venue(s): 8 (in 5 host cities)
Location: Lusail Stadium, Al Bayt Stadium, & more…
Why is the world cup being played in November & December you ask?
Qatar is in the middle east. Temperatures will be scorching…it's not exactly soccer / football weather, unless you're from the southern hemisphere, so the games have to be played in the European & North American winter months so hopefully temps are lower. The opening match will be between Qatar and Ecuador at Al Bayt Stadium, Al Khor.
The final will be held on 18 December 2022, Qatar's National Day.
The defending champs are France, as they defeated Croatia 4-2 in the 2018 World Cup.
World Cup 2022 Bragging Rights
In addition to being the team to put the championship trophy above their heads the teams get paid! What kind of prize money you ask? Each qualified team will receive $1.5 million before the competition to cover preparation costs.
$440 million will be allocated to the teams when it is all said and done. $42M to the Champs. $30M to the runners-up. $27M to the third place team.
Our List: Best 2022 FIFA World Cup Betting Sites
1. MyBookie 2022 World Cup Betting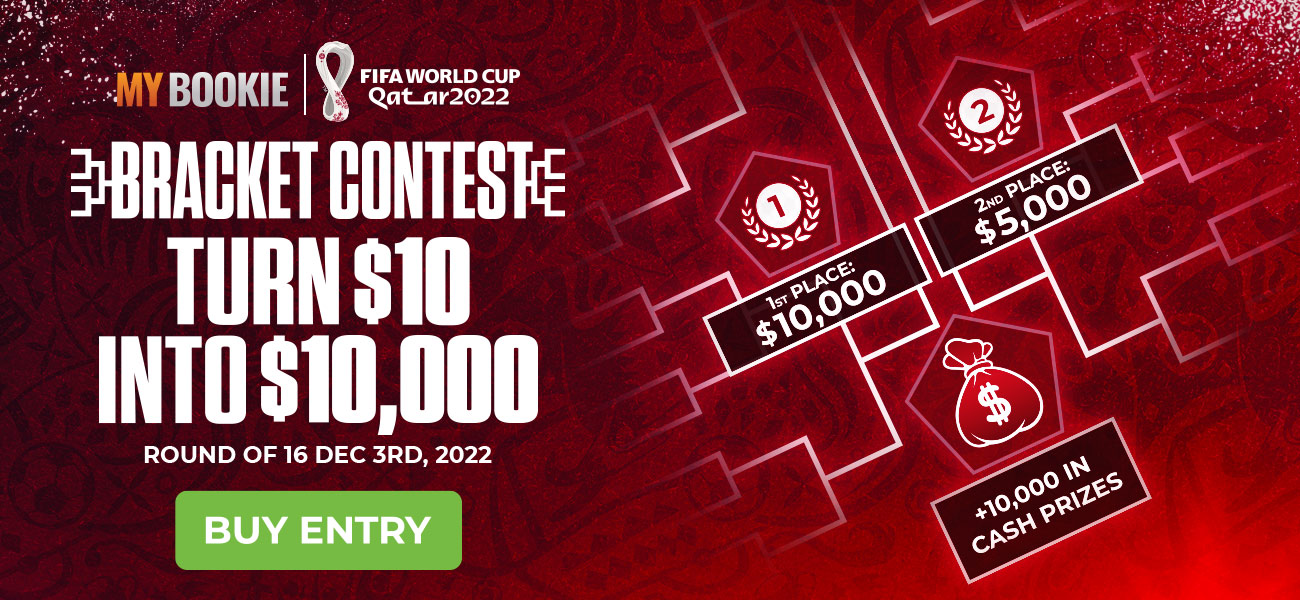 $10000 Bracket Contest. Turn $10 into $10K with MyBookie! Your home the 2022 Fifa World Cup in Qatar! Buy an Entry Today.
Bet On Anything. Anywhere. Anytime. First Deposit Bonus Up To $1,000 + $10 Casino Chip w/ the CappersPicks.com Promo Code: CPICKS
2. Bovada 2022 World Cup Betting
Bovada has everything you need to bet on the 2022 World Cup, you can even find helpful betting tips and insights from Bovada. Once you have a Bovada Sportsbook account, head on over to their 2022 World Cup odds page. From there you can find and bet on all the latest 2022 World Cup betting odds for all the fixtures. CappersPicks.com Promo Code: CPICKS
3. XBet 2022 World Cup Betting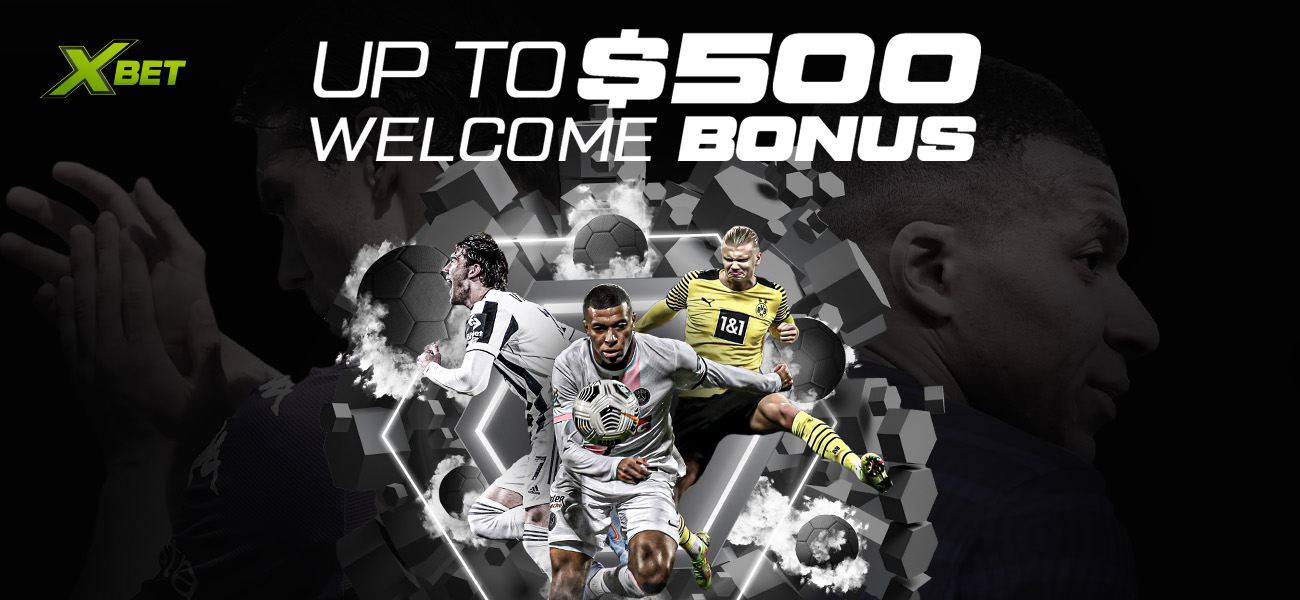 Get Up To $500 today when you deposit at XBET Sportsbook! We'll throw in a $10 Casino chip too! The Last Sportsbook you will ever Join…! The Xbet Staff is a proudly hand-picked team composed by some of the most experienced, highly skilled online gaming professionals in the industry. We promise you'll love it there!
Comparatively, you'll make out alright with the first deposit Sports signup Bonus with the CappersPicks.com Promo Code: CPXB
Qualified Teams – World Cup 2022
Team Fifa World Rankings in brackets.
AFC (6)
Australia (38), Iran (20), Japan (24), Qatar (50) (hosts), Saudi Arabia (51), South Korea (28)
CAF (5)
Cameroon (43), Ghana (61), Morocco (22), Senegal (18), Tunisia (30)
CONCACAF (4)
Canada (41), Costa Rica (31), Mexico (13), United States (16)
CONMEBOL (4)
Argentina (3), Brazil (1), Ecuador (44), Uruguay (14),
UEFA (13)
Belgium (2), Croatia (12), Denmark (10), England (5), France (4), Germany (11), Netherlands (8), Poland (26), Portugal (9), Serbia (21), Spain (7), Switzerland (15), Wales (19)
Looking for Soccer Futures? World Cup Betting Odds!
Brazil +350
Argentina +540
France +690
England +790
Spain +800
Germany +1100
Netherlands +1200
Portugal +1575
Belgium +1775
Denmark +2800
Uruguay +4000
Croatia +5000
Serbia +8000
Switzerland +10000
Senegal +12000
Poland +15000
Ecuador +15000
Mexico +15000
USA +15000
Wales +20000
Canada +20000
Morocco +20000
Japan +24000
Ghana +24000
Cameroon +26000
Republic of Korea +26000
Qatar +26000
Australia +36000
Tunisia +50000
Iran +50000
Costa Rica +75000
Saudi Arabia +75000
Updated November 17th, 2022
Cappers Picks – Soccer Picks
Basically if you're looking for a free 2022 World Cup Pick? We're on the Dutch. In the past, Holland has gotten desperately close to winning the trophy. Is 2022 the Netherlands' year? We think so.
Bookmark our Football & World Cup Soccer picks index today! We aim to bring you stats, Matchups, Previews, Odds, Picks, Injuries, Trends and more. For any World Soccer resources you could need like odds, team stats, player stats, schedules, or Soccer handicappers check out Cappers Picks soccer section today. Generally we're your go to source for the best 2022 FIFA World Cup betting sites, and you know it!
Cappers Picks provides complimentary expert handicapping picks on all 2022 World Cup soccer & as much European football matchups all season long. Stay tuned for more FREE daily football & soccer predictions.
If you're looking for more Best 2022 FIFA World Cup Betting info & matchup analysis we'll be providing 4* free World Cup betting tips on the blog all tournament long, and check out our Experts for guaranteed premium & free World Cup picks!
Register here for a FREE Soccer/Football Betting Account Now for Daily Free Picks & More Special Offers!