DraftKings/Fanduel – NBA Roster Advice
Hey there welcome to the Daily NBA DFS lineup tips report at CappersPicks.com. If you're in the market for NBA DFS lineup tips you've come to the right place. You can't buy DFS lines here, we're not giving away subscriptions to insider info and we're not claiming to be better than the ChipotleAddict's of the world. What we do provide is updated NBA lineups and advice for daily fantasy sports.
Rest assured we've got your NBA DFS back. We want to help you take down the sharks in NBA DFS.
FREE entry when you sign up Play for a share of $10,000 in prizes – Join FanDuel Today!
If you need DraftKings or FanDuel advice bookmark our DFS advice and check out our Daily NBA basketball roster construction tips each day.
NBA DFS: Guards
Stephen Curry, GSW (vs MIN) Price: $10.4k DK, $9.9k FD
Stephen Curry is never going to come cheap. That's especially true on Thursday night against one of the league's worst defenses at his possession.
But, as you could already guess, he's going to be well worth the cost.
In his last outing, Curry went for 53.5 FPTS. He dropped 32 points while shooting 9-of-19 from the field, 8-of-15 from the three-point line and collecting seven assists and six rebounds.
Curry? Easy choice against the 'Wolves.
Jamal Murray, DEN (vs NYK) Price: $6.7k DK, $7.5k FD
Monday night was "Jamal Murray night." He went for a career-high 38 points against the Portland Trail Blazers (including six assists and five rebounds), and he totaled 54.75 FPTS.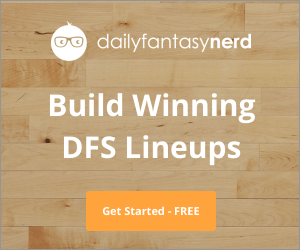 Will he hit those same FPTS again? Not likely. But he has momentum. And that's important—especially against a lowly defense like the New York Knicks.
NBA DFS: Forwards
Carmelo Anthony, OKC (vs CHI) Price: $6.1k DK, $6.6k FD
Paul George is the easy choice here if you can afford him. But Thursday night could definitely be an opportunity for Carmelo Anthony to rise from the dead and actually be a value pick at 6k-plus.
Against Washington, he's going up against a team that is just 29th in terms of defense against his position.
Anthony is coming off a down performance—and a surprise one at that—against the Nets.
He's due for a big game.
Courtney Lee, NYK (@ DEN) Price: $4.8k DK, $5.1k FD
Courtney Lee isn't a high-value pick in terms of a high ceiling, but he's a strong pick in terms of a low floor.
Lee isn't someone you want to pick Thursday night to gives yourself more money up top; he's someone you want to lean on as a crutch if you've over-exposed a different position and need a bail-out option late in your rotation.
NBA DFS: Centers
Enes Kanter, NYK (@ DEN) Price: $6.0k DK, $6.2k FD
There are a lot of elite center matchups on Thursday night. You don't want Karl-Anthony Towns because he's going up against an elite defense in the Warriors. You don't want Nikola Jokic because he's facing newly minted All-Star Kristaps Porzingis.
Thinking about Steven Adams? Marcin Gortat is in your way.
This means Enes Kanter, at the F/C position, is your best bet. The Nuggets don't have the power forward power to stop Kanter from putting up a big game, so his value is nearly unmatched on this night.
Injuries
QST: Jimmy Butler, MIN, G/F, $9.3k [UPGRADES: Karl-Anthony Towns, Andrew Wiggins]
OUT: Paul Millsap, DEN, F/C, $6.2k [UPGRADES: Wilson Chandler, Kenneth Faried, Nikola Jokic]
One last thing. Remember… at the end of the day if you can't afford to gamble online OR play at Draft Kings and Fan Duel then STOP. We know most DFS players need action, heck we do too, so just bet what you can afford.
Don't go chasing money in high dollar GPP's. Stick to cash games, and try to play on bigger slates. Avoid those night time 2 games slates. Your bankroll will thank us later.
See you back here tomorrow for more NBA DFS lineup tips and roster construction analysis.
If you're looking for more NBA picks we'll be providing 4* free NBA predictions on the blog during the entire 2017/18 NBA season, and check out our Experts for guaranteed premium & free NBA predictions!
CappersPicks.com has NBA Odds up on a ton of championship futures, and you will also find DAILY NBA lines up as well.