DraftKings/Fanduel – NBA Roster Advice
Hey there welcome to the Daily NBA DFS lineup tips report at CappersPicks.com. If you're in the market for NBA DFS lineup tips you've come to the right place. You can't buy DFS lines here, we're not giving away subscriptions to insider info and we're not claiming to be better than the ChipotleAddict's of the world. What we do provide is updated NBA lineups and advice for daily fantasy sports.
Rest assured we've got your NBA DFS back. We want to help you take down the sharks in NBA DFS.
FREE entry when you sign up Play for a share of $10,000 in prizes – Join FanDuel Today!
If you need DraftKings or FanDuel advice bookmark our DFS advice and check out our Daily NBA basketball roster construction tips each day.
NBA DFS: Guards
Tim Frazier, WSH (@ IND) Price: $3.8k DK, $4.1 FD
This selection represents a risk. But if you're planning on exposing your frontcourt, you could do far worse—meaning you could select players with far lower floors and ceilings—than Frazier.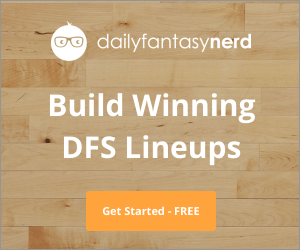 Frazier, John Wall's replacement in the starting lineup, is coming off a nine-point, seven-assist showing that landed him 25.5 FPTS. Three games prior, he netted 35.7 FPTS.
Victor Oladipo, IND (vs WSH) Price: $8.4k DK, $9.3k FD
(Just before presstime Oladipo was downgraded to QUESTIONABLE – please keep an eye on his pregame status)
The Washington Wizards enter this game as the fifth-best team defending guards in DFS this season. But without John Wall, there's not much reason to buy into that number.
Victor Oladipo should have a field day in this contest. His production won't be limited to points; he'll be a machine all across the board.
NBA DFS: Forwards
Otto Porter, Jr., WSH (@ IND) Price: $7.1k DK, $7k FD
As contrary to the evidence as it may seem, we're not trying to stack players from this Washington-Indiana contest. It's not going to have the highest point total of the night, and beyond this, there aren't many matchups we're looking at as having much firepower.
That said, 'Dipo is an obvious selection, Frazier has high-value potential, and Otto Porter, Jr. has shown in recent games that he can stuff a stat sheet when John Wall sits.
Tobias Harris, LAC (vs DAL) Price: $6.6k DK, $6.6k FD
Tobias Harris had a nice debut with the Los Angeles Clippers. On the Blake Griffin-less team, he posted 20 points, four rebounds, five assists and hit three shots from behind the arc while earning eight attempts in that category.
Against Dallas, he has a strong opportunity against the old man version of Dirk Nowitzki currently occupying the same position as him on the Mavs.
NBA DFS: Centers
Bam Adebayo, MIA (vs ORL) Price: $4.6k DK, $3.9k FD
Keep an eye on Hassan Whiteside's status entering this contest. That's going to make all the difference on whether or not you should draft Adebayo.
If Whiteside plays, you're better off targeting someone like a Dwight Howard against a fast-paced Denver Nuggets squad—despite the brilliance of Nikola Jokic. If Whiteside sits, Adebayo becomes a sneaky value player.
So far this season, Adebayo averages 8.2 points, 6.6 rebounds and 0.7 blocks when he starts at center. Two games ago, against the Philadelphia 76ers, he posted 15 points, 13 rebounds and 41.75 FPTS.
Injuries
QST: Hassan Whiteside, MIA, C, $8.1k [UPGRADES: Bam Adebayo]
OUT: John Wall, WSH, G, $8k [UPGRADES: Bradley Beal, Tim Fraier]
QST: Aaron Gordon, ORL, F, $7.8k [UPGRADES: Bismack Biyombo]
QST: Donovan Mitchell, UTAH, G, $7.1k [UPGRADES: Ricky Rubio]
OUT: Lauri Markkanen, CHI, F/C, $6.8k [UPGRADES: Bobby Portis]
One last thing. Remember… at the end of the day if you can't afford to gamble online OR play at Draft Kings and Fan Duel then STOP. We know most DFS players need action, heck we do too, so just bet what you can afford.
Don't go chasing money in high dollar GPP's. Stick to cash games, and try to play on bigger slates. Avoid those night time 2 games slates. Your bankroll will thank us later.
See you back here tomorrow for more NBA DFS lineup tips and roster construction analysis.
If you're looking for more NBA picks we'll be providing 4* free NBA predictions on the blog during the entire 2017/18 NBA season, and check out our Experts for guaranteed premium & free NBA predictions!
CappersPicks.com has NBA Odds up on a ton of championship futures, and you will also find DAILY NBA lines up as well.